You Can't Outrun God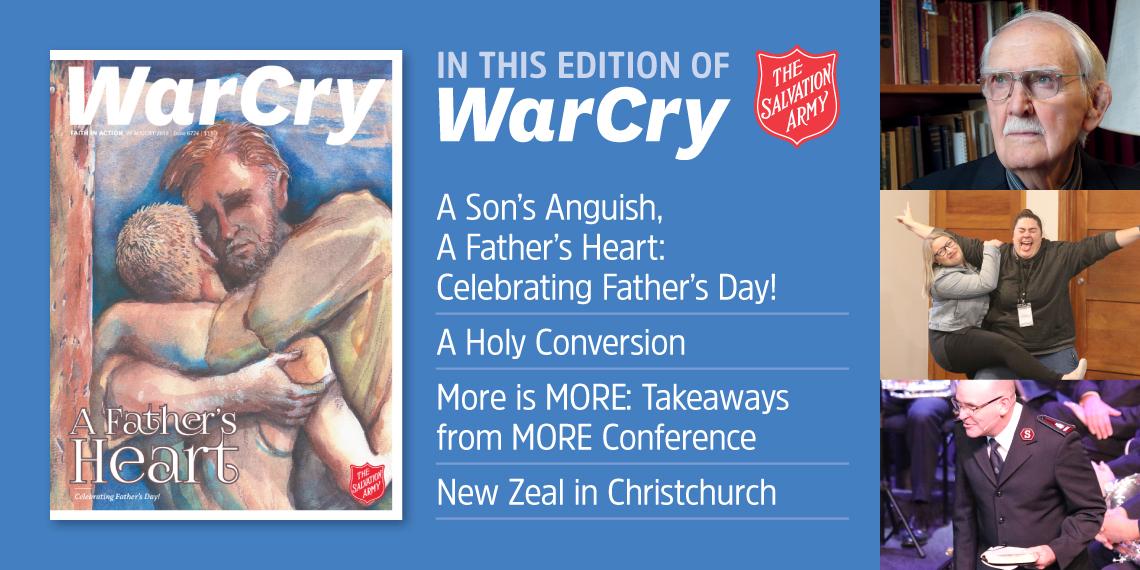 Posted August 24, 2019
Welcome to the Father's Day edition of War Cry—a day that has featured in my life mostly in a 'professional' capacity as an officer, rather than because I am someone's daughter. I didn't meet my father until I was 10 years old, seeing him for the first time at the back of Christchurch City Corps on a Sunday night—a rather surreal moment.
In our feature, former All Black Nev MacEwan alludes to the rocky relationship he had with his alcoholic father. He also walked this path when his All Black career ended, eventually leading him to attempt to take his own life. He ended up in a detox ward, the place where his transformation began.
Many of us know the story Jesus tells of the Prodigal Son—a story less about the sons (because let's be honest, both sons drop the ball in their own way) and more about the extravagant, shocking love of a father for his wayward son.
In Jewish tradition, if a son loses his inheritance, the community would perform a ceremony called the kezazah. They would smash a big pot in front of him and yell, 'You are now cut off from your people'—separating him forever from his family, his community and his faith.
This adds richness to the image of the father running towards the son before he entered the village, as I imagine him wanting to outrun the kezazah ceremony. He wants to restore his son before the pot is smashed!
God outruns our shame, our failures and our brokenness and embraces us in a way that restores and transforms our lives. Our worst days do not have to define us. So, as Father's Day rolls around for 2019, take a moment to reflect on a Father running to save his son ... and you!
Shar Davis
Assistant Territorial Secretary for Communications
Bible verse
Psalm 103:13 (NLT)
The Lord is like a father to his children, tender and compassionate to those who fear him.
Ngā Waiata 103:13
E aroha ana te matua ki āna tamariki, pērā tonu tō Ihowā aroha ki te hunga e wehi ana ki a ia.