Putting the Spirit in Song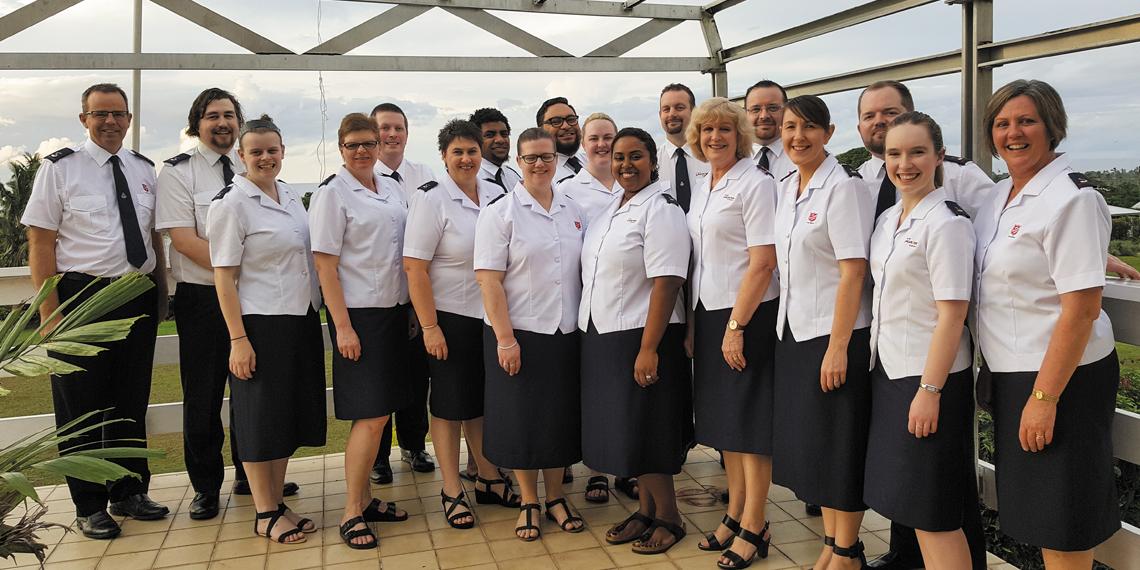 Posted April 1, 2019
Singing is something most people do (regardless of talent)—often in the car, or the shower and occasionally when you're wearing headphones and you forget that everyone nearby can hear you, even if you can't hear yourself!
Growing up many of us spent time in the school choir. But what about as adults? While songster brigades were once a part of almost every corps (church), they're far less common these days, so where does someone go for that choir experience?
SpiritSong is the national choir of The Salvation Army in New Zealand, and while I've seen them perform many times on stage, I wanted to get a closer look at this group—and who knows, maybe I could join them.
I began by crashing their rehearsal camp at Silverstream Retreat. In May each year, the group get together at the start of their 'year'. When I walked into the room, they were all sitting in a semi-circle singing through one of their songs, under the direction of Maree Downey, the musical director.
Some of the faces I recognised as seasoned members of the group, and, contrary to what some people assume, this isn't a choir limited to young people. Major Anthony Stone always wanted to join the group, and his retirement from officership opened the door for him to tick it off his bucket list. 'I like making music, this gives me an outlet for that and I enjoy the company of the group.'
Maree has a keen ear and provided a firm but fair critique before they continued working at getting the song just right. While they do take it very seriously, there is still a lot of laughter in the group.
I joined the group for lunch and asked Lieutenant-Colonel Lynette Hutson, Executive Officer for SpiritSong, about the group's purpose. 'SpiritSong has a dual purpose. Firstly, it's about the mission that we do out in the community and in corps—so not just limited to being a corps focus, but about reaching into the community of the places we go,' said Lynette. 'Secondly, it's about the spiritual development of the people in the group, so that they are ready to be part of stepping up into ministry. We also support each other, using our private Facebook group for prayer requests.'
Lynette jokes that she keeps losing her members to officer training college. 'It's not the only end result, but it's a great one, and watching people step up in their corps settings,' she said.
The team were buzzing about their upcoming visits—firstly to Tīmaru, before heading to Samoa for the official opening of The Salvation Army's work there.
Lieutenant Emma Howan, Corps Officer in Tīmaru, said the corps wanted to invite a group who would help encourage and inspire people in the corps in the sharing of their talents. 'We were expecting a bunch of passionate people who would share not only their talents but their journeys with us.'
The corps was able to connect with 90 people at both the Saturday night concert and on Sunday morning. 'There was only a little bit of a crossover, so we reckon we connected with around 150 different people at these alone,' said Emma.
The team also ran a workshop on Saturday afternoon with the corps musicians and any singers who wanted to attend. 'It was also great to be able to take the group to a local rest home and share with its residents. We're still getting comments from those who attend the church services we take there,' said Emma.
I was excited to see the group perform in Samoa a couple of months later—the first overseas trip for the group for a number of years. Before the group was SpiritSong they were the National Songsters. Under that name, they toured around New Zealand and as far away as Atlanta for the International Congress in 2000.
While a trip to Samoa might sound relaxing, this visit was definitely a working one for the team, with a day of rehearsals taking place before the Friday night prayer service. The Saturday morning outreach was cancelled due to the torrential rain, but this allowed the group a little extra time to rehearse in the open space of the Samoa Tourism Authority Fale.
A few took the opportunity to visit the stunning Immaculate Conception Catholic Cathedral, boasting incredible acoustics and breathtaking views. They spontaneously sang a benediction there. (You can find a video of this performance on their Facebook page, www.facebook.com/SpiritSongNZ).
The group has a number of songs in their repertoire, including some songs that have a soloist or duets. While there is a real entertainment factor to their performances, it's obvious that they believe the words they sing, as their faces express the emotion of their words.
I asked Lynette about the value of a trip like Samoa: 'It's the opportunity to minister in a different cultural setting, but [we needed to] make sure we were relevant to that cultural setting.'
Part way through the Sunday morning service there was a power cut across the city of Apia. All of SpiritSong's performances up to that point involved either live music from their capable music team or backing tracks. The team took it all in their stride and performed Go In Peace unaccompanied, with just their voices and harmonies permeating the fale. This was the moment for me that their music ministry over the weekend felt most 'at home' in Samoa.
As the service concluded, members of SpiritSong stood around the edges of the fale, surrounding those gathered and sang Go In Peace again as a benediction. It was a really special and sacred moment.
'The group are still talking about that [power cut] because of what God did in those moments for us internally, as well as those in the congregation. It was like a big surprise,' reflected Lynette.
Kāpiti Corps is the final ministry weekend for the year before they head back into their next rehearsal camp. Corps Officer Sarah Green said that having guest musicians and a choir will be a special treat for the corps, who usually sing with just piano accompaniment each week.
There will be a choir workshop that will be open to children and adults, followed by a concert. 'There is something about music and worship that draws us deeper into God's love and our relationship with him,' said Sarah.
SpiritSong is definitely about music and singing, but all they do is driven by a deep desire to connect people with God through this medium.
In my quest to explore the world of SpiritSong, I recently asked Lynette about their membership and whether there were any openings—you know, "asking for a friend".
The great news is they are looking for new members so, if you're interested, you can email Maree.Downey@salvationarmy.org.nz. The bad news is I get stage fright when I have to sing by myself, so I will stick to reporting about SpiritSong, leaving plenty of room for others to join this group of passionate singers and musicians.
---
(c) by Shar Davis - 'War Cry' magazine, 23 March 2019 p14-15. You can read 'War Cry' at your nearest Salvation Army church or centre, or subscribe through Salvationist Resources.