Faith when life is fragile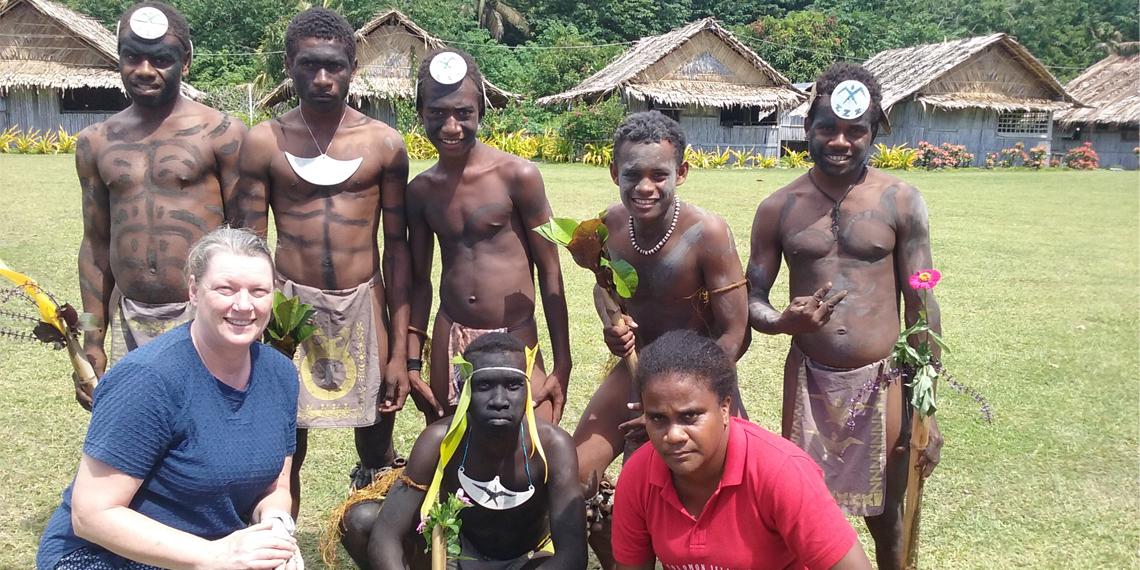 Posted August 14, 2019
Nothing prepares you for the death of your spouse, yet Vikki Stevenson knew God was with her as she had to recalibrate her life and her plans for the future ...
 
Vikki Stevenson was born in Tīmaru to Salvationists Brian and Doreen Bennetts. She was surrounded by a strong belief in God her entire life. She can't pinpoint her first faith experience because 'God's just always been there,' says Vikki.
During her childhood the family spent a few years in the North Island before moving back south to settle in Christchurch—the city Vikki has called home ever since.
When she was 15 years old, a handsome young man arrived at Christchurch City Corps with his officer parents, who had been serving overseas. Christopher Manning—known to most as Chris, and to his mother as Christopher John when he was in trouble—stole Vikki's heart. It was love at first sight for her, she admits with a giggle.
It wasn't long before Vikki and Chris started dating, and four years later they were married, just two weeks shy of her 20th birthday. Her father picked them up at the airport after their honeymoon and informed them that he and Doreen were moving to the North Island. Chris's parents had also moved, so this meant Vikki and her brand new husband would spend their first seven years of married life on their own, without the support of family close by.
Vikki and Chris have four children: Holly, Sarah, Joshua (known to most as JJ) and Hannah. When Chris pursued his childhood dream of becoming a police officer, he moved to the Police college in Porirua for his training. This meant Vikki was now solo parent to their young children for four or five months, with Chris coming home only once for two weeks during that time.
Fast forward to 2005—Vikki's parents' 50th wedding anniversary coincided with Vikki and Chris's 22nd anniversary. The Bennetts' family gathered from around the country to celebrate Brian and Doreen's special day. Chris decided to run the five kilometres and meet Vikki at church to set up for the party. Vikki recalls meeting up with Chris at the lights by Hagley Park. 'He looked a bit stuffed then, so I said to him, "Do you want a ride?"
"No, I'm fine," he said.
After Vikki had locked the hall and was walking to the shops with Hannah, she heard a loud voice yelling 'Vikki!'. 'I'd locked him in! He got himself locked in the men's loos somehow and had to climb over the top of the door, and this set the alarm off,' Vikki recalls.
That was the last time Vikki and Chris would speak. Chris was jogging home, and less than a kilometre from where Vikki had last seen him, he dropped dead of a heart attack.
Vikki arrived home as two policemen walked down her driveway. 'Oh Hannah, that's Dad's sergeant,' she said.
She wound down the window and the officer said, 'We need to talk to you.' Vikki turned to her youngest daughter and said, 'Go and get the others, something has happened to Dad … '
It didn't enter her thoughts that Chris had actually died.
It's obvious that grief has no expiry date, as Vikki begins to reflect on that moment. 'I remember every detail, the kids … ' her voice trails off. Holly was 18, Sarah was 16, JJ was 14 and Hannah was just 12 when their father died. 'My 18-year-old had a boyfriend at the time, he's now her husband—so that's nice that he knows Chris. Sarah just crumpled at my feet. JJ went off to the garage and took it out on the boxing bag. Hannah looked at me and said, "It's okay Mum, we'll see Daddy again someday". Twelve years old … ,' Vikki says reflecting on the innocence and insight of Hannah's response as she comforted her mum in that moment.
Vikki was once again in the role of solo parent, but this time it was for real. Chris wasn't coming home again. Their tightknit family had to find a way forward without the fun-loving, people-magnet that Chris was.
It would be understandable if Vikki's faith in God was shaken as a result of Chris's death. 'The clearest thing I can picture is … ' She tries to find the words to explain what happened for her. 'Take an apricot, it's really easy to open because you can just twist half of it off. For me, it was like half of me was gone! But [I'm] still attached to the stone … that's how it felt. My best friend—gone! Half of me—gone! But I'm still attached to the centre, to the rock.'
The year before Chris died, Vikki's dad had been diagnosed with bowel cancer. 'I love my dad—we're really close—and I had to come to terms with the fact that I could lose him. In some ways, God prepared me for death—not what I expected, but he prepared me. Dad also had two fully blocked arteries and one three-quarters blocked, Chris had just one 50 percent blocked artery— you just don't know … '
After Chris passed away, her friends became even more important to Vikki. 'Nelson and Barbara, Kate, Linda, and Dean … we did a lot of things together through that early grieving time, I would have been lost without them,' Vikki reflects.
Eventually Vikki and Dean Stevenson began dating. 'It just grew out of friendship,' Vikki says. 'I had my mother and father-in-law saying to me, "It's time to move on".' Other people spoke to her about Dean and someone from church even had a dream about them. 'It felt like a God thing,' says Vikki.
Dean has four children from his first marriage, so they became a large blended family. 'Eight is enough,' Vikki laughs. Both families had grown up together at Christchurch City Corps, so in some ways this helped with the new family dynamics.
Vikki was employed as the corps administrator in 1998. In 2000 she trained as a budget advisor, and eventually, when the corps moved the administration from the corps building to the Hope Centre (Community Ministries), she began to do both the administration and budgeting.
She became the budgeting coordinator, overseeing the budgeting services for the city. In June 2010 she was asked to help with budgeting in a wider capacity. Her time was split 50/50 between the corps and the division.
When the earthquake hit in September, Vikki faced a new challenge—liquefaction. 'It was really weird where we lived. You could go two houses to our left and two houses to our right and you're perfectly fine, but the strip down where we were—so much liquefaction.'
Vikki says that despite the mess they were able to live in the house. 'Some windows wouldn't shut and some doors wouldn't open—after every shake, or whatever, that might change.'
On the day of the February quake in 2011, Vikki was flying back from Gisborne after working. 'There was an English woman on the plane and she was a little nervous about the earthquakes, and I'm trying to say "It's all okay, they're all finished".'
She went straight to work and had an appointment with a client scheduled for 1.00pm. The quake hit at 12.55pm. 'There were two of us in the staff room—we both stood under a different door as the windows blew in.' The staff decided to leave the building and Vikki thought she'd just go back to her office and grab her phone. 'The ceiling had collapsed, I couldn't even open the door to get in,' she recalls. The ceiling had collapsed right on top of Vikki's desk, where she had been sitting just a few minutes earlier.
That was the second of four times that their house would be affected by liquefaction. They had lived in the house for about 19 months before the first earthquake struck, 'We had another 19 months in the brokenness.' The reality for the family was 'a poo pod outside, a camp toilet inside that you had to empty in the poo pod outside. It was portaloos, going and finding water, filling up the bath with water and just doing what you could,' Vikki remembers. 'We used to go camping, so for a week or two it's okay. I had to go to a friend's house in another suburb to have a shower.'
Vikki was hoping their house would be orange-zoned, meaning they would be able to repair the house and stay. 'You're there because you like the area, and we loved our house. But, in the long run, being red-zoned was good because it meant you had to move, you had to move on, whereas other people are still living in it, even now.'
In the aftermath of the February quake, Vikki's work took on the focus of helping to pull the Community Ministries teams across Christchurch together, to work collectively. She spent three months bringing the SAMIS team together to process all the earthquake response work, of which there was a lot.
These days Vikki is fulltime with the division, involved with Positive Lifestyle Programme (PLP), budgeting and SAMIS—anything to do with CM really. 'If there are things I can do, I will help where I can—coaching the teams on the ground, training and supporting them.'
If that wasn't enough, Vikki has spent the past four years travelling twice a year to the Solomon Islands to provide training with Caritas (Catholic Social Services) on behalf of The Salvation Army. 'In the Solomons they [Caritas] support rural training centres, and they've put together a project to upskill the rural training centres. For every dollar that Caritas puts in, the New Zealand Government matches it with four.'
The training courses were agriculture, carpentry, mechanics and leadership—quite male-dominated, so they asked the women what they'd like training in and they said budgeting. In the Solomon Islands you pay to go to school, says Vikki. 'If you're living off the land, you don't have a lot of money. This course was to teach basic budgeting skills, money management, and look at ways of making money/income for the women living in rural communities and for Life Skills Teachers, so that they could train others.'
Vikki says that budgeting in the Solomons context is quite different to New Zealand. 'You end up looking at marketing, and what you might have at your hand that could be used to generate money and income for your family.'
On her fifth visit to the country, Vikki asked if someone from The Salvation Army could join the group. She spoke with the corps officer in Honiara, who suggested the Home League secretary. The Army has since set up a couple of initiatives: sponsor children to go to school and, for every family involved, they are expected to participate in the financial capability course. Another village is starting a coconut oil business to allow them to be independent, and they too are required to do the financial capability course with the Home League secretary.
The opportunity to travel to the Solomon Islands and teach people to be financially independent was an opportunity Vikki never dreamed she'd have. God has opened so many doors for ministry opportunities as she's tried to always put him first in her life, no matter what challenges she's faced.
'For me, it's just my belief in God—he just seems to take whatever happens and turn it into good. It's not what we imagine or dream, but somehow good just seems to come out of it,' Vikki says.
'In our house growing up, it was always about others, so others have always been important to me. What motivates me is to see people be everything that God created them to be. Others reaching their full potential in Christ.'
Vikki's family continues to expand, with five grandchildren within 12 months. They continue to open their home to others, and look for ways to build relationships within their community and the church family at Christchurch City. For Vikki, her life will always be lived motivated by one word: Others.
---
by Shar Davis (c) 'War Cry' magazine, 10 August 2019 p8-9. You can read 'War Cry' at your nearest Salvation Army church or centre, or subscribe through Salvationist Resources.