The Challenges of Change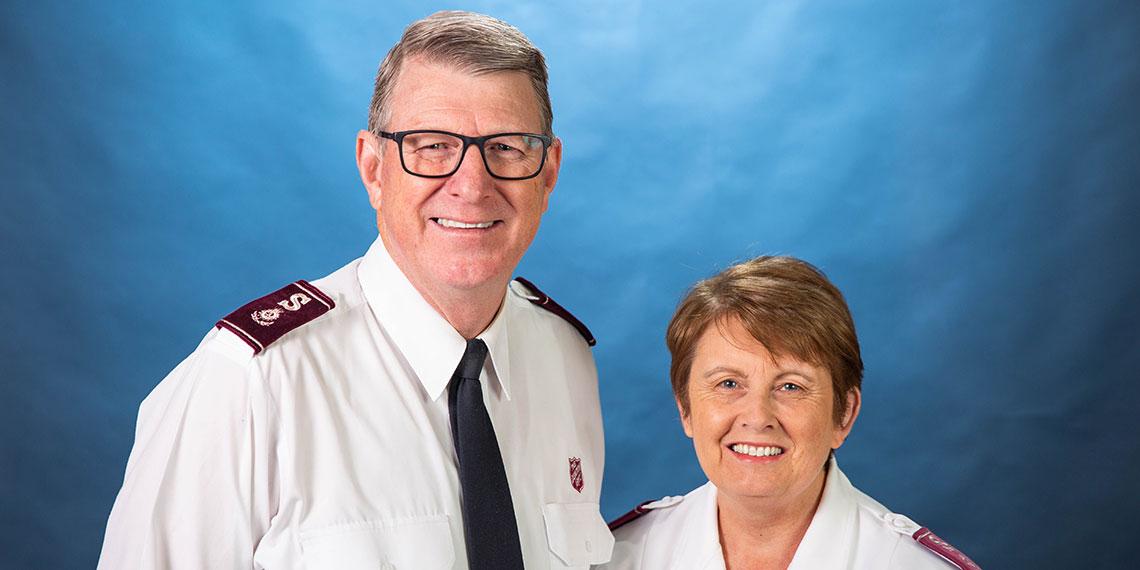 Posted February 10, 2020
A new decade brings a considerable change for Commissioners Mark and Julie Campbell, the new Territorial Leaders for the New Zealand, Fiji, Tonga and Samoa Territory. War Cry caught up with them ahead of their move across the ditch, to find out what makes them tick.
Mark and Julie Campbell—born and raised in Australia—leave behind their growing family to take up their new appointments. They have three adult children—Joel and Sarah are both married and their youngest son, Aaron, gets married in May.
There is a personal cost to officership, and this change of appointment comes as the Campbells are entering a new stage of life—Grandparenthood. Their first grandchild, Hazel, was born just before Christmas. 'It will make it a little harder to leave but [our children] all live in Sydney, which is a good thing, rather than being spread around the country,' says Mark.
Mark grew up close to Corrimal Beach, in the northern suburbs of Wollongong (NSW), so it's not surprising that he is a keen surfer. Speaking with Others magazine, he says, 'What I learned was to keep to the basics, hold on, go with the flow, pick your waves and your wins... I knew that I would be in deep water, at times, but I knew that there would be people around me. That's what I have learned from surfing that I take into life.'
A simple invitation from friends of Mark's mother led him to The Salvation Army and, ultimately, a personal relationship with Jesus.
It was Wollongong Corps where Mark and Julie met after her parents were appointed there as corps officers in 1979. Their love story navigated the usual ups-and-downs of young romance, intertwined with the calling to Officership—something Julie was adamant about and Mark was uncertain of.
Fast forward four decades and they are not only on the same page about Officership, but they have steadfast confidence in God, especially in the tough times. Before moving to Wellington, Mark and Julie were Chief Secretary and Territorial Secretary for Women's Ministries & Gender Equity Advocate, respectively.
Changing Australia
Australia underwent a massive restructure as the former Eastern and Southern Territories combined into the single territory covering the entire country. Mark and Julie were in the midst of the changes and saw firsthand how deeply people were affected by the transition process.
Mark says, '...the transition actually strengthened our thinking about who we are as The Salvation Army. The Salvation Army is a Christian movement, dedicated to sharing the love of Jesus. So, I think bringing the two territories together provided opportunities to ask, "what are we really on about here and what does God want us to do?" ... it has strengthened our mission and [helped us] be more determined about seeing transformation in Australia—and Jesus is the answer to that. We are committed to prayer and God's Word and believe this is central to see his Kingdom come and his will done on earth as it is in heaven.'
The developments in the governance area required senior leadership to include people with expertise in this area, and Mark says, 'we had to be open enough to listen and learn from others'.
Julie was challenged about the importance of communication and listening. 'It's so easy during a time of change for people not to feel heard or feel undervalued.' She realised how important it is for leaders to listen, '…we have to listen really hard to what people are saying so that we hear the heart of our people'.
The human cost of the process was the hardest part for the people-orientated couple. 'We had to see these things through other people's eyes, rather than just assuming we understood,' explains Julie. 'We've been really driving home that the local mission is at the heart of The Salvation Army—and THQ and DHQ are here to support and enable them to fulfil our mission to share the love of Jesus in practical ways and make disciples.'
Mark adds, 'It's about enabling the mission to thrive on the front line … and one of the lessons learned is that with mission delivery we've made a deliberate decision to improve and increase integrated mission as well. So corps, centres, family stores, all mission expressions, in a geographical area, working together instead of in isolation.'
'We are committed to prayer and God's Word and believe this is central to see his Kingdom come and his will done on earth as it is in heaven.'
Changing Seats
The change of appointment requires a shift in leadership focus, moving from territorial management to territorial governance. Mark says the distinction in Australia has been clear. 'The Territorial Leaders are the spiritual denominational leaders of The Salvation Army. There's been a deliberate distinction of language that distinguished the two,' explains Mark. 'The governance sets the strategy, and [the Chief Secretary's] role is to actually execute the strategy through the local mission delivery and through divisional leaders and the management team.'
The Campbells were quite candid about moving from the 'hands-on' positions they held in Australia, to sitting in the governance and denominational leaders' seats in our territory. 'We're both very practical, so it'll take a bit of discipline,' says Julie. 'We'll work very closely with Colonel Suzanne Fincham as Chief Secretary and Colonel Heather Rodwell as Territorial Secretary for Women's Ministries, and the leadership team, to make sure we distinguish that.'
A crucial part of Julie's focus over recent years has been gender equity. 'We realised when we looked at our history in the two Australian territories, a lot of male officers had held significant roles, and we noticed that while a number of single women had been in territorial leadership, we had not had as many married women leaders. We've never had a married woman Territorial Commander or Chief Secretary,' explains Julie. 'We really wanted to challenge default appointments, to identify the reasons and processes that were hindering women from being appointed to these roles. We are excited that Colonel Winsome Merret has just been appointed as Chief Secretary (in Australia).
'We believe that God created us in his image, and has given us all gifts and abilities. So, we want to ensure that we're the most powerful Army we can be—the right people in the right appointments, with the best opportunities for us all to use our experience and gifts,' says Julie.
'In Australia, 70 percent of our staff are women', explains Julie, 'and so we want to hear the voices of our women in decision-making so that we represent the issues that women in our community experience.'
Mark adds, 'I think one of the biggest shifts is actually the cultural shift, the default thinking—even in appointment boards, we look for the right person for each appointment, both male and female.'
Changing Cultures
Mark and Julie know something of New Zealand—being Aussies—but only recently realised Wellington was the capital city, not Auckland. They've visited New Zealand for a two-week holiday and loved the diversity of the country. 'We know that The Salvation Army per capita is strong, there's one level of government, you have a woman [prime minister], and she's very well respected in Australia,' says Mark.
They know the population of New Zealand, Fiji, Samoa, and Tonga (which they visited for a leadership conference in 2018). 'We were very impressed with Tonga but haven't been to Samoa or Fiji,' he adds.
'I think what we love most is the cultural aspect,' says Julie. 'What we're looking forward to is embracing the culture, the enthusiasm, the family environment, the community of all the countries—including New Zealand with Māori. We're really looking forward to discovering more about community, respect and collaboration.'
Mark is a keen sports enthusiast, and while he understands rugby union, he is a rugby league diehard. '[I'm a] Sydney City Roosters supporter who've won two grand finals in a row.' It's important to note Mark does admit that, 'the All Blacks have beaten the Wallabies at Eden Park every game since 1986'. Mark has a dream he's hoping to see realised while he's in New Zealand: 'If the Wallabies could beat the All Blacks at Eden Park while we're there, it would be a miracle, certainly an answer to prayer', he adds cheekily.
'We have to listen really hard to what people are saying so that we hear the heart of our people.'
Changing Territories
'We've been watching posts on Facebook and reading the War Cry, so we're quite excited about what God is doing in New Zealand, in The Salvation Army,' says Julie. 'We're keen to be part of the mission—I believe in the immeasurably more of God, so believing for even greater things.'
Mark is an introvert, and even though a room full of people can eventually drain him, he loves 'actually journeying with people and seeing where God is at—I really enjoyed the New Zeal [season] that you've recently experienced, and picked up a bit of the passion in your Congress'.
They are also looking forward to being part of the outworking of the 'We Commit' statements and answering the questions, 'What's the outworking of that? How do we measure success? What is the strategy behind achieving some of those commitments?
'We want to acknowledge the leadership of Commissioners Andy and Yvonne Westrupp, and commit to continuing their vision and mission,' the couple add.
When they're not working, Julie loves shopping—even if it's just looking. 'I love meeting people for coffee and reading. I'm always looking for the latest book.' Mark will be bringing one of his surfboards with him and says, 'I probably need a thicker wetsuit than the one I use [in Australia]. He also is a regular gym-goer and has a 1964 EH Holden—that won't make the journey across the ditch.
Mark and Julie commenced in their new roles 1 February, and their territorial welcome will be at Wellington City Corps, Sunday 15 March, at 3:00pm, conducted by Commissioners Janine and Robert Donaldson.